After nearly a year of not leaving the house or having really -anything- of note happen in my life, I've finally got something worthy of posting on this site.
Bathroom reveals.
I won't prattle on about life or random thoughts like some other blogs do, I'll just crack on with it.
So here's the powder room aka wc for you Brits: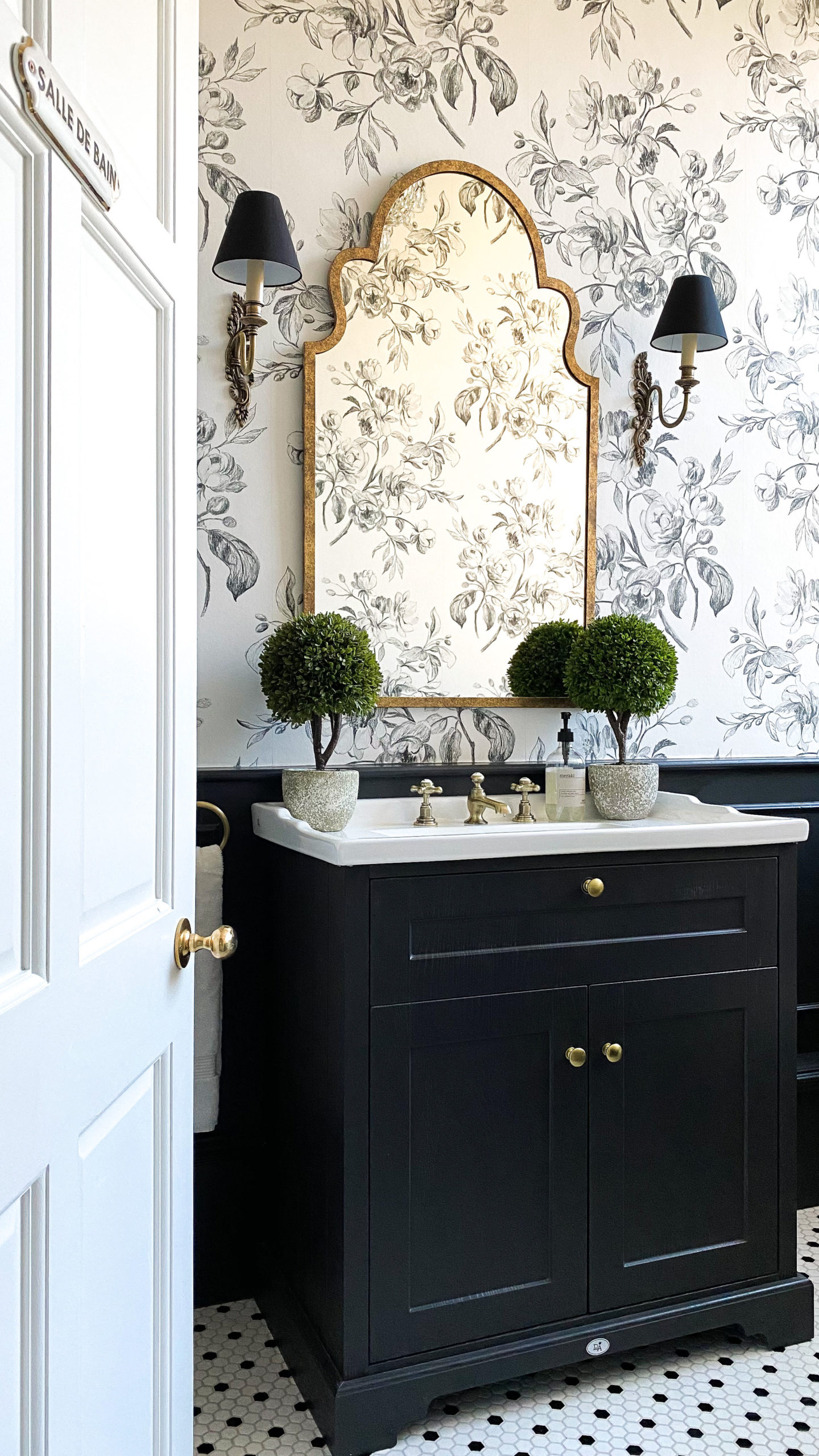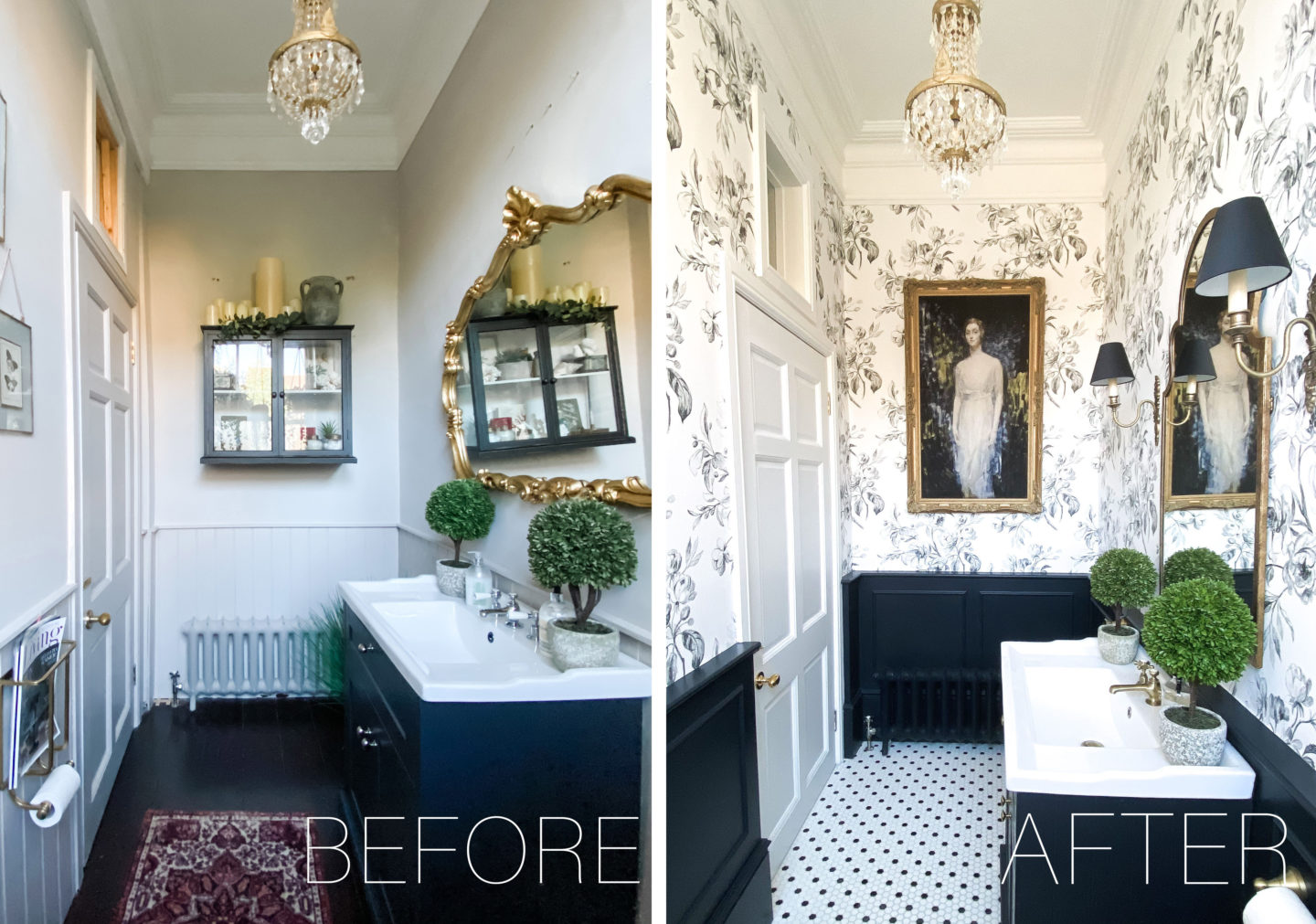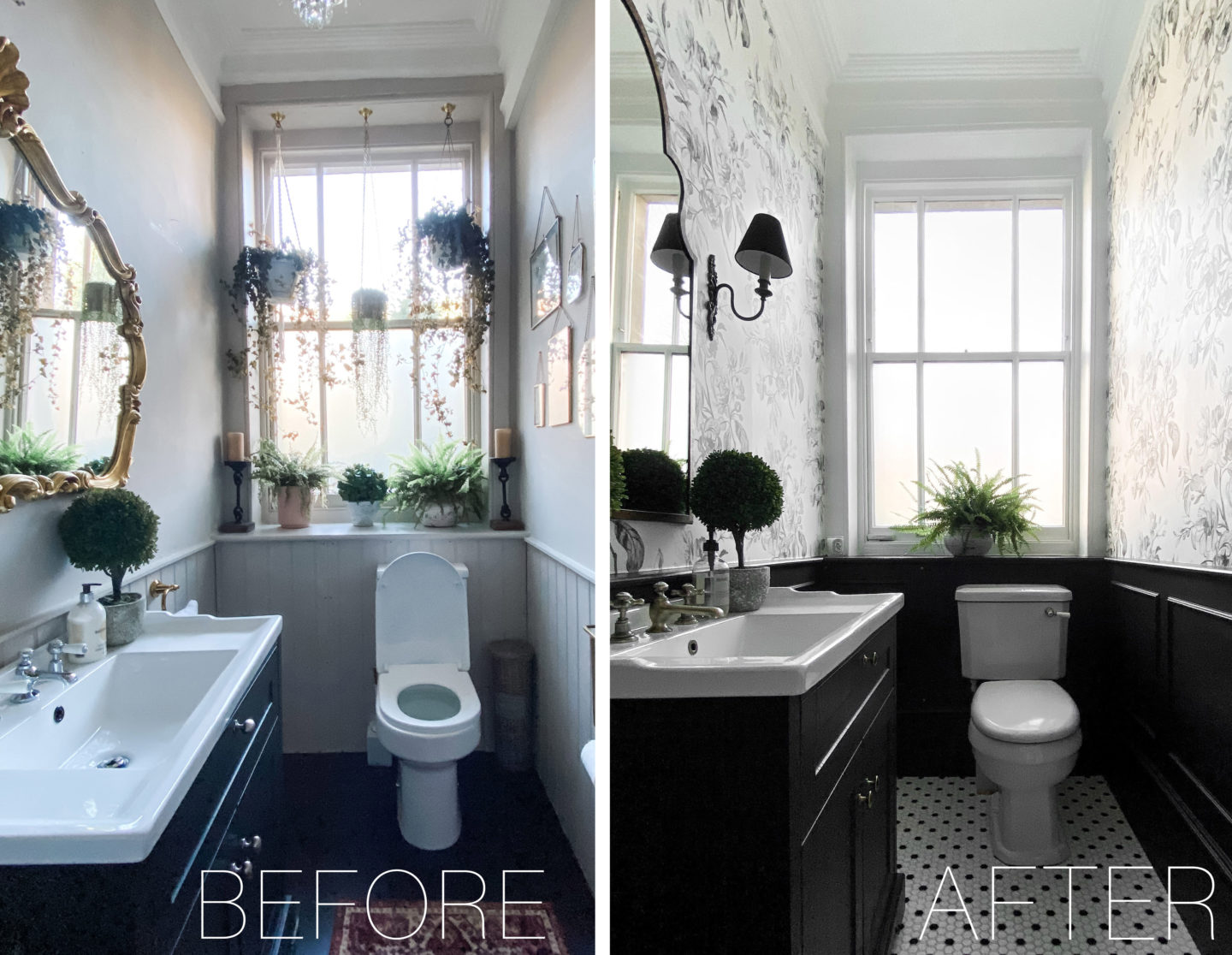 Pretty proud of it, not gonna lie. The way it looked when we bought it wasn't terrible, but blotchy brown PAINT on the hardwood floor paired with wonky walls and shoddily done paneling just irked me everytime I was in there. Not to mention we'd never got around to patching the giant holes in the wall left by the previous owner when they took out some shelving they had installed.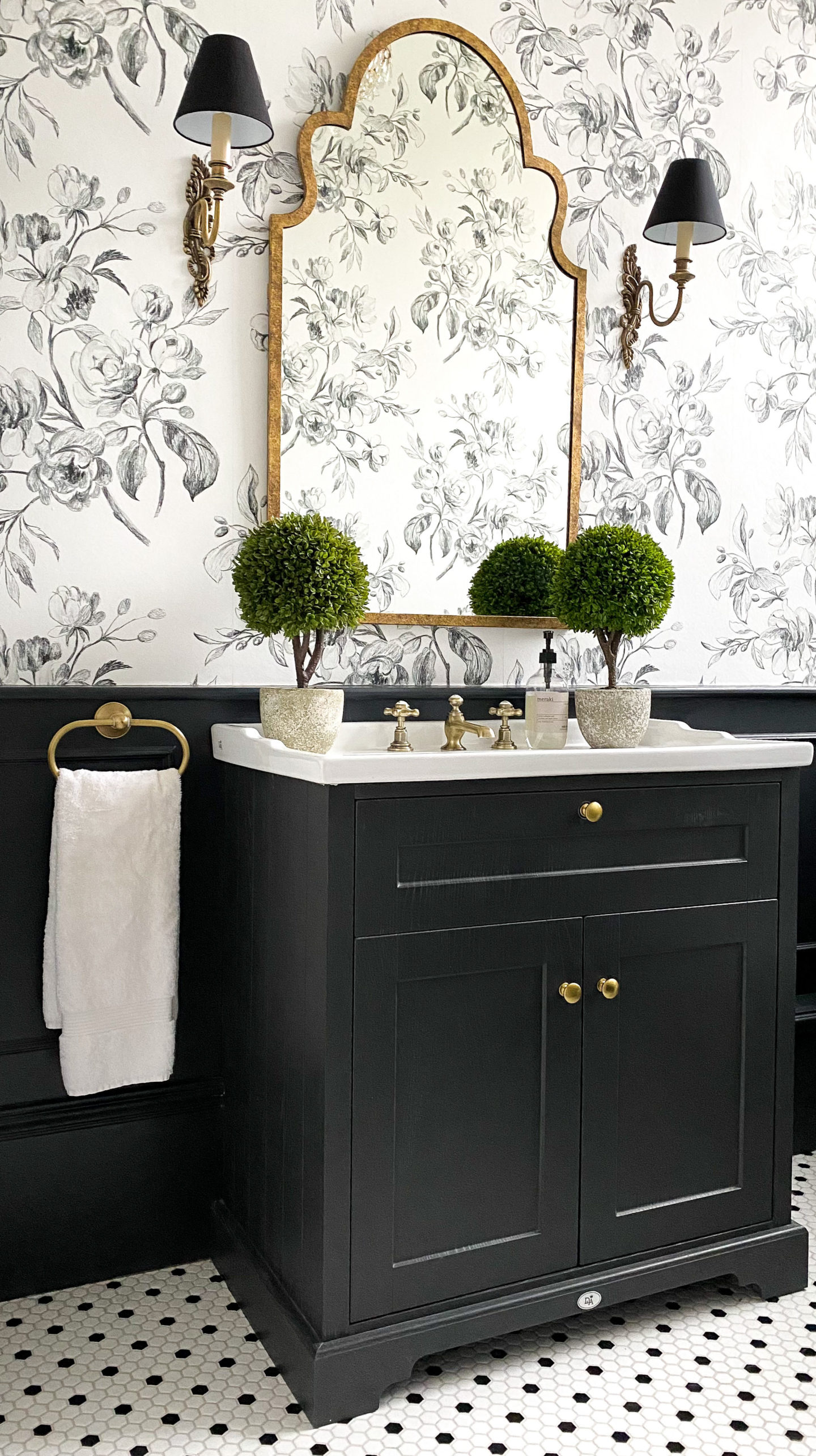 THE PLAN
Powder rooms are one room in the house where you can really go BOLD and take risks with design, because no one ever spends much time in the room so the super striking visuals won't tire the eyes.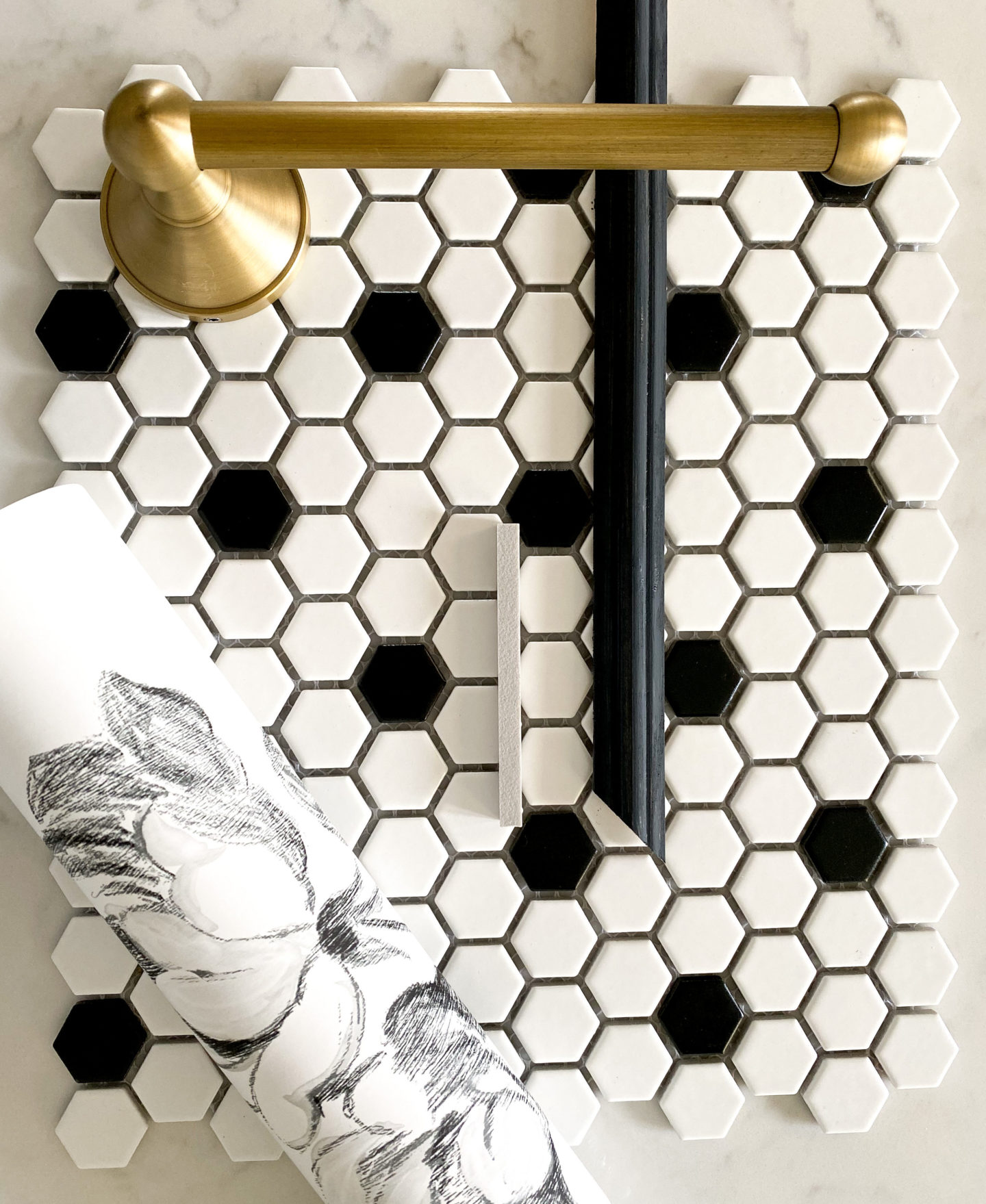 The space benefits from 10ft ceilings, but has nothing more than a toilet, vanity with basin, and radiator. So I had to find a creative way to fill the very narrow, very tall space without making it feel like a windowed elevator that you pee in. Enter: half-wall (or in this case: quarter-wall) paneling and wallpaper. I was careful to select a wallpaper with a very large repeat so that it didn't feel too busy.

The biggest change to the room is one you cannot see: the wall where the door is was previously slanted like this \ and had to be built out to make it |. You can see it better in this closer image: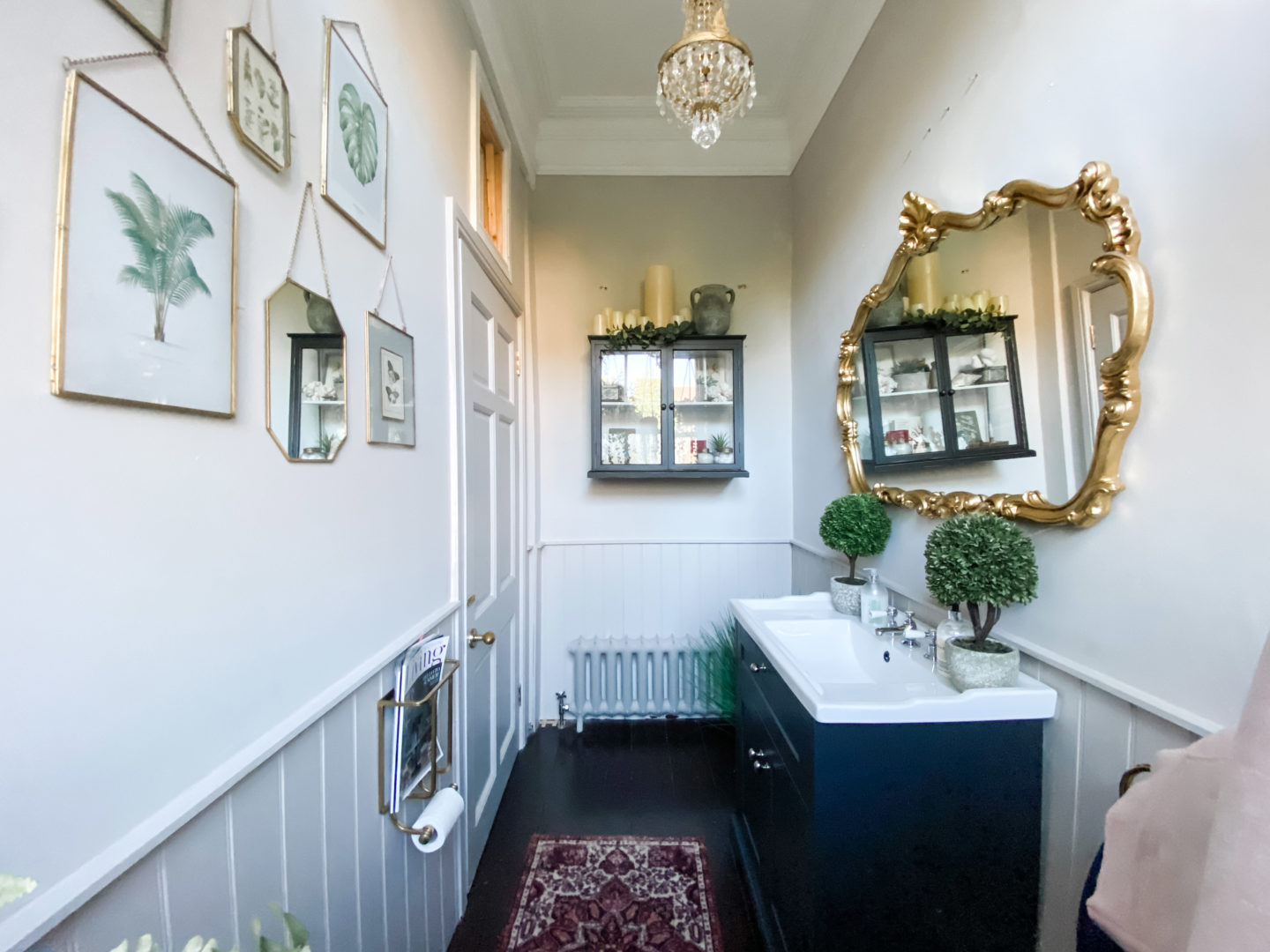 The quirks of older houses can be both charming but also triggering. I'm glad it's sorted now. The previous wall paneling was also very cheap and poorly installed. So we had it all gutted.
THE DETAILS
I wanted to revive our home's Early Victorian identity, so I chose plain but strongly shaped paneling, a floral print for the wallpaper, neutral tones and classical touches, with brass fixtures. My favourite touch is the penny-tiles.

I don't believe in sinking money into high-end expensive pieces unless you really have your heart set on that item and cannot find a comparable elsewhere for a lower price. Big tip: ALWAYS reverse image search on google – oftentimes the same items are stocked at many webstores and you might find a deal or sale on one of them.

So, for example, I spent quite a bit imo on the wall lights (£155 each including the black shades), but then I bought pretty much everything else on discount bathroom sites and Amazon. The toilet paper holder and hand towel ring were both an absolute steal, especially in the antique brass finish which is often more expensive.

The penny tiles were only £15 per square foot, and the wallpaper was on sale at £54 a roll (I needed 4 rolls total). If you like the wallpaper but wish to save even more on a similar style, I just found this one at only £17 a roll. BARGAIN.

The ceiling light was something I'd found on ebay last year, but here's a similar one and for basically the same as what I bought mine for. Beware on wattage/voltage if you live in a different part of the world and buy the chandelier – you'll need to get it rewired for your region's voltage.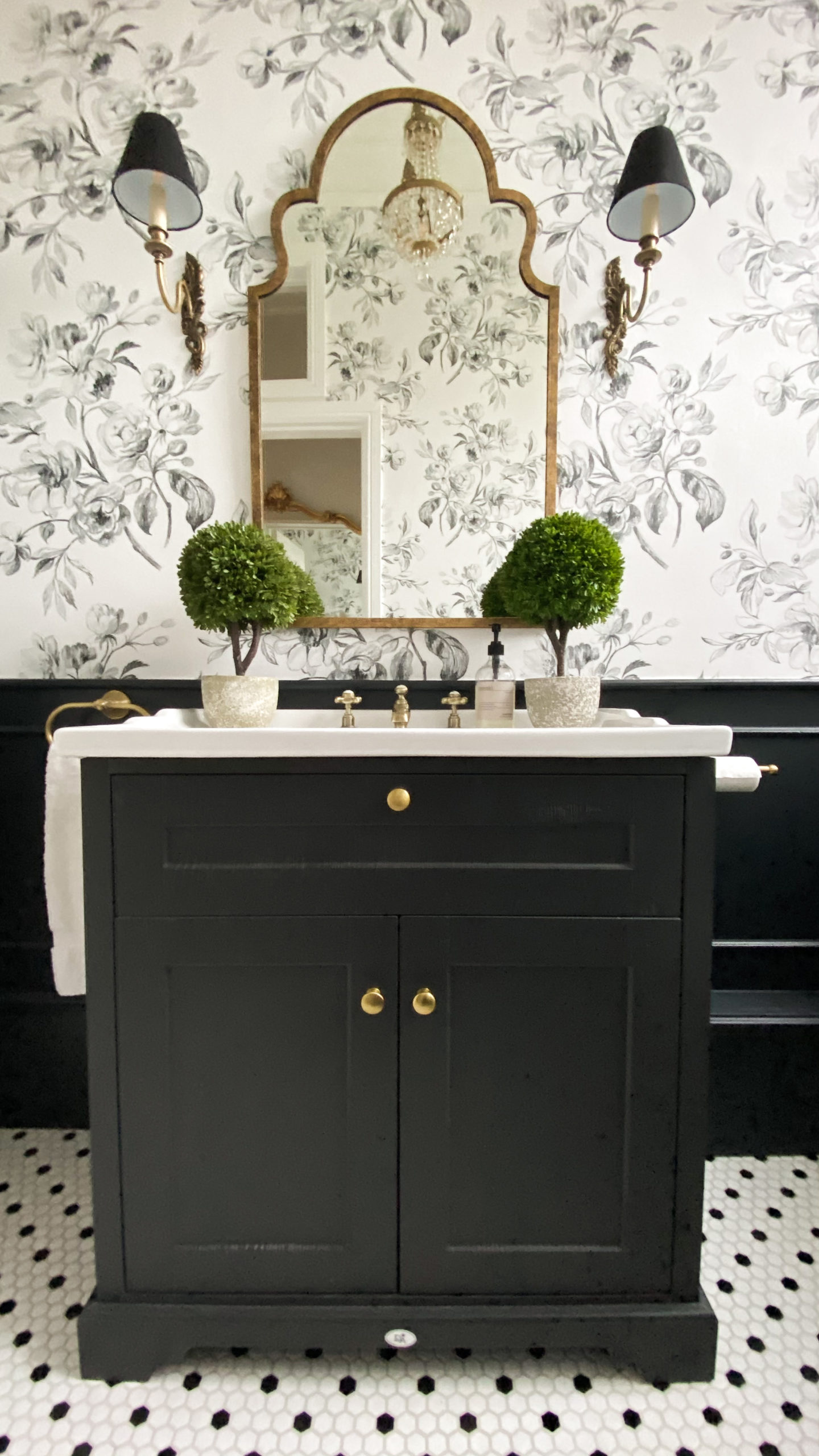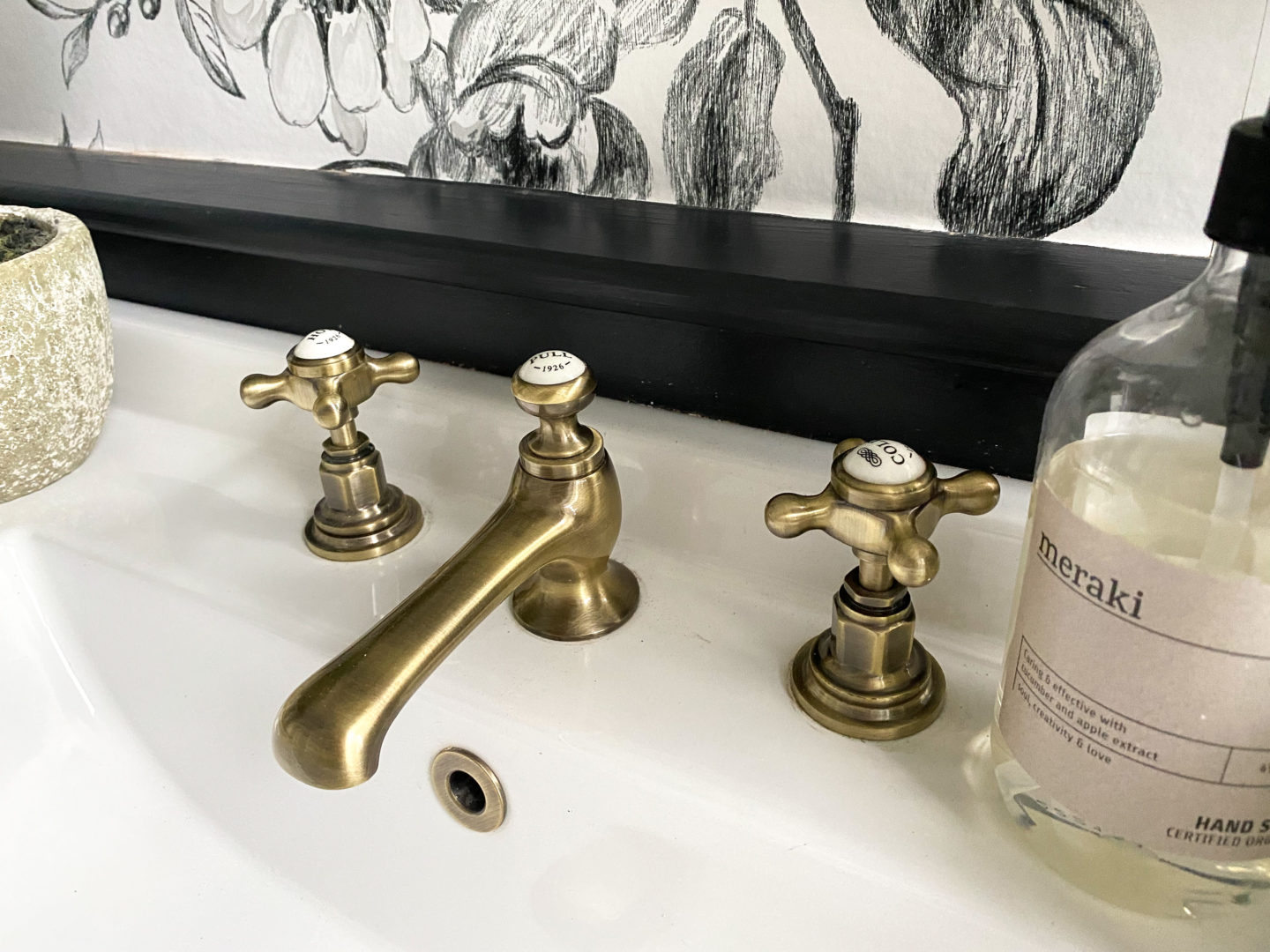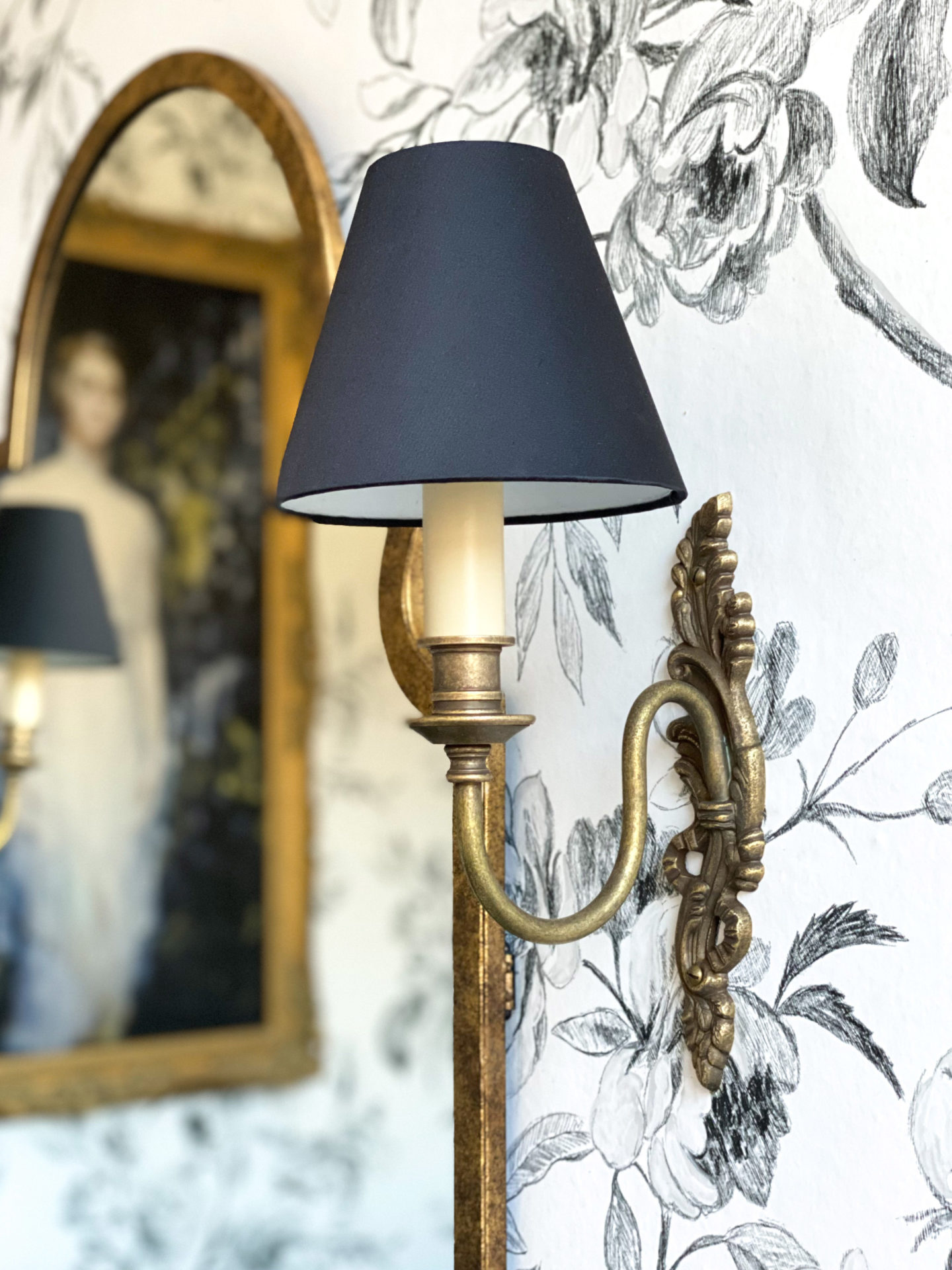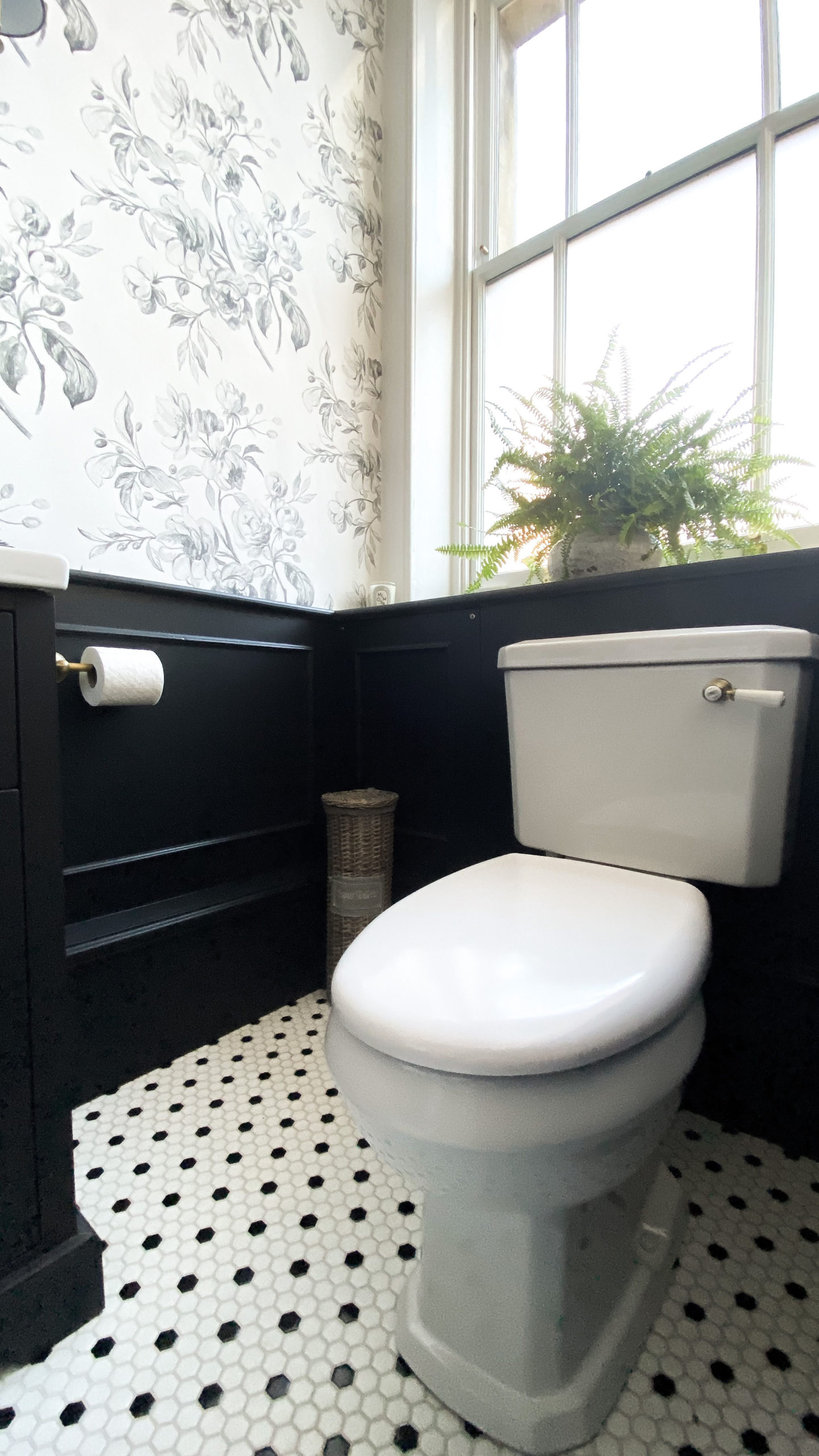 The portrait is a canvas print of Ambrose McEvoy's "Portrait Of A Lady". He's one of my favourite painters – his works are ethereal and play so well with light. When you look at them, there's a sense of being transported into a dream-like state of his subjects.

I know some lovely inspiring photos of beautfiul bathrooms can have paintings in them, but WHO ARE THESE PEOPLE who put REAL paintings in a place where there's pooping going on? Save money, get the same look, and don't be one of those people – simply search on ebay for canvas prints in any style you like!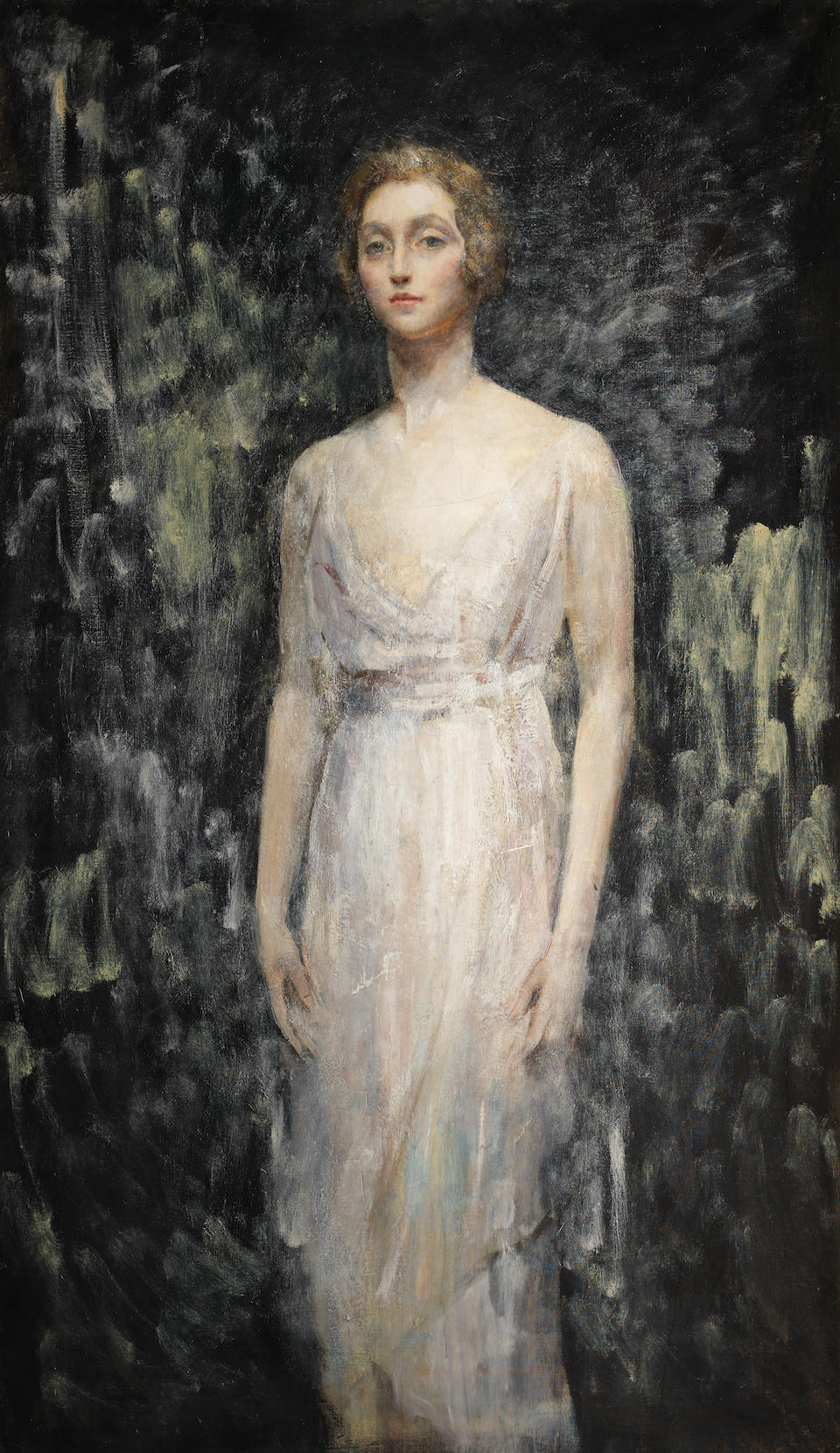 It did take far longer to have this room done, thanks to lockdown issues, shipping delays, and from time to time a bit of a struggle with my fitters, but overall I am simply thrilled with the final look and quality of the work.

One more note: don't miss tiny details to really polish the space, including door knobs that compliment the aesthetic, ensuring the radiator (if you have one) is painted in a matching colour to the wall behind it, and matching the metal finish of the overflow ring and sink plug to the taps.

And don't forget the green. EVERY ROOM NEEDS A PLANT OR TWO – EVEN IF THEY ARE ARTIFICIAL.

All told, aside from the labour/materials for fixing the wall, the cost of all items including even the accessories and decor came to just under £1500.
*drops mic*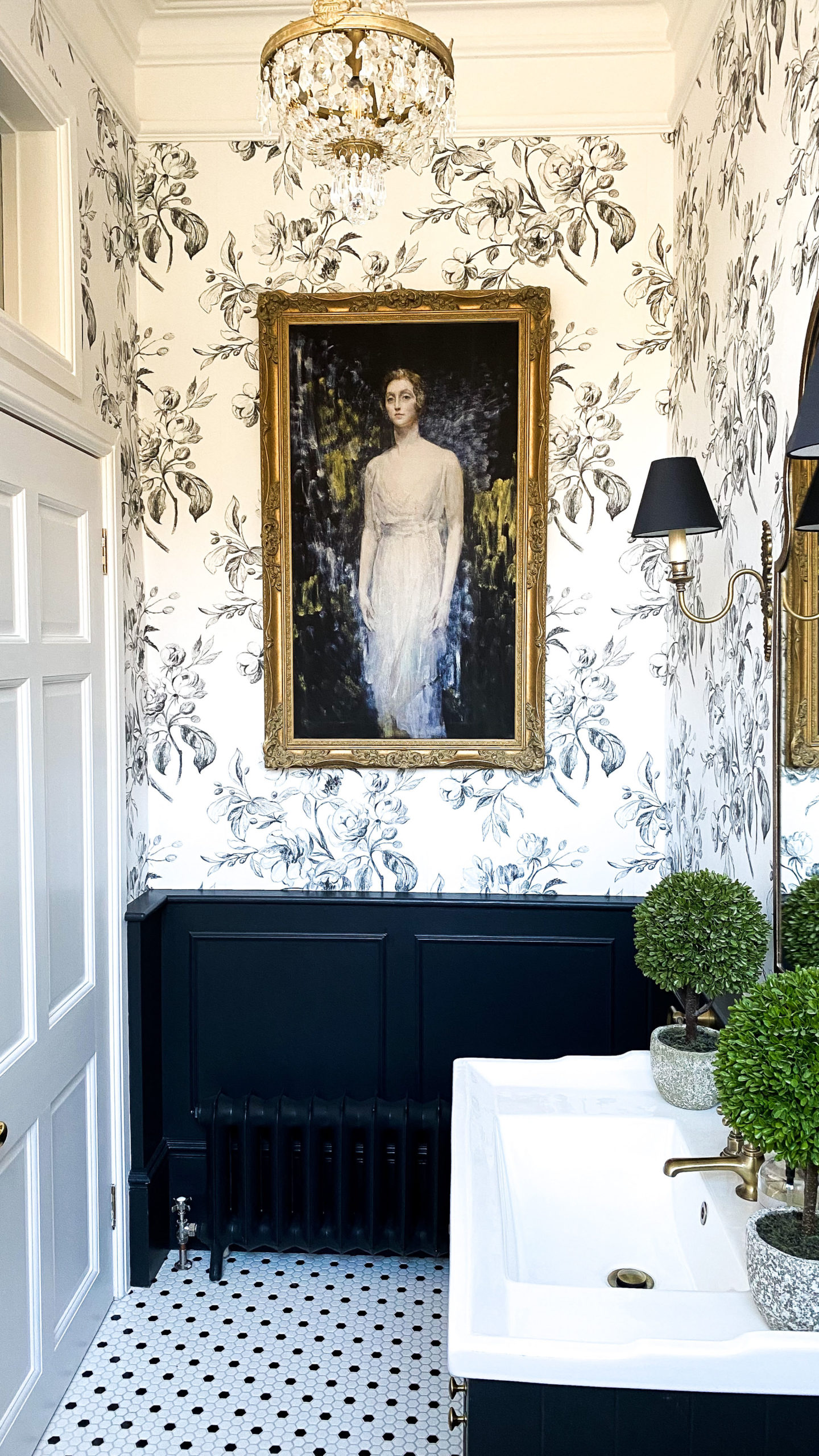 So that's job done! What do you think?

Also, would a full run through of my design creation process be of interest? If so, comment below and I'll follow up with a post!