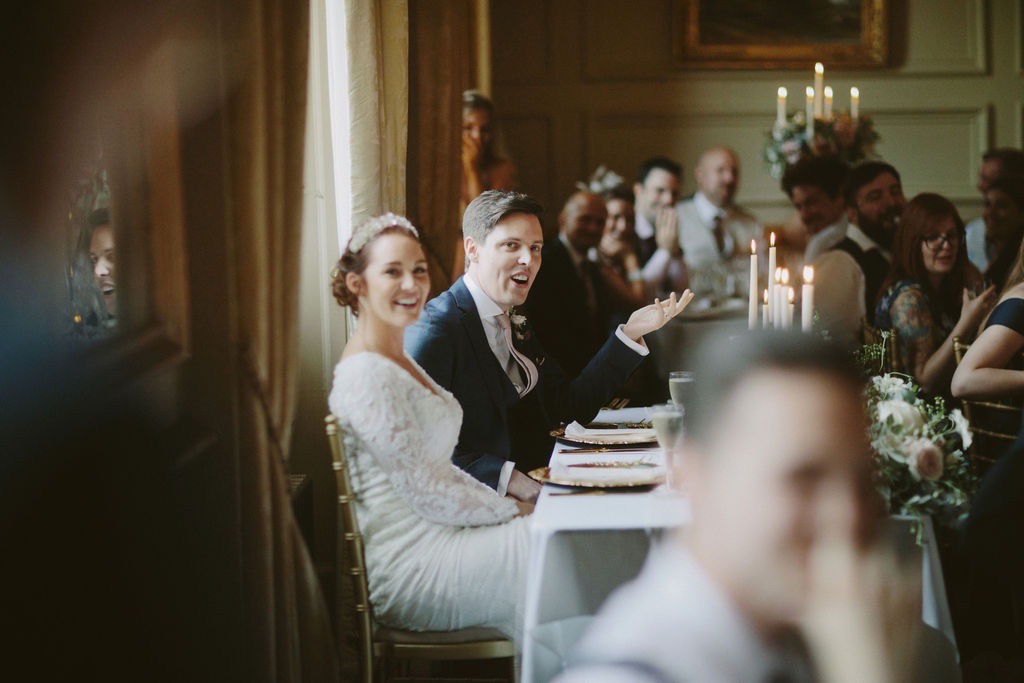 If you missed part 2, click here.

Our special day continued with our Wedding Breakfast! Why the British call this part "breakfast" when it's just dinner, I'll never know. Some Brits even call dinner "tea", while "tea" is "a brew", and a beer (which is normally a "brew") is "a pint"… oi. Some rubix cube Ouija board mechanism is needed to figure out why all these words are jumbled in meaning. Don't even get me started on how many things are called "pudding" here when literally NONE OF THEM ARE ACTUALLY PUDDING.

Anyways…we after dinner/breakfast, we retired to the hunting hall for coffee and wedding cake.
Highlights: the speeches were hilarious and touching all at once, the cake was a massive hit (though we can't take credit, we stole the flavour from The Duke and Duchess of Sussex when they got married: Lemon and Elderflower), and the room was filled with the sounds of warm conversation and soft-renditions of our favourite hip hop tunes and 80s classics.

Photos all taken by the incredible David Jenkins.
Click to continue to Part 4 – The Night Begins.

More info including vendors and other details are coming! This is just the photo collection so our guests, friends, and followers can share in our memories 🙂
Note: unless you were a guest at our wedding, please do not re-upload these photos on your social media without written permission from myself or my husband (feel free to pin to Pinterest directly from here though). Thank you!